Julia Muench

Julia is a multi disciplinary and visionary artist based in the Central New Jersey area. Her creative focus is on her fiber art work, spanning back to the 1990's. Julia chooses fabric and thread in the same way a painter chooses paint, and creates her fiber-art paintings working in various types of fiber and mixed media. Her canvases burst out the traditional into the contemporary, sometimes with a touch of whimsy and of humor. With a lifelong career as a professional musician, music, dance and rhythm continue to be an influence in her work.
Julia is presently working on her first solo art exhibit, to be held at Art Alliance in July of 2021 in Red Bank, New Jersey. Some of Julia's artwork currently on exhibit in northeastern galleries, include: upcoming in June 2021 for the national show, Far and Wide in Woodstock, NewYork: her "Aquarian Dawn".
Also, "Delicate Balance" viewed at Art Alliance in Red Bank, New Jersey, through the month of May, 2021.
Earlier, in 2021, Julia recently finished a large commission project "Cosmic Cadence" measuring 7.5x 6 '.
Her process and additional art work may be viewed online at:
https://www.youtube.com/channel/UCEv_blaUYiDinUy8l4rwiJg
And her online art gallery: https://www.artworkarchive.com/profile/julia-muench
Her other awards include: Julia's prize winning artwork piece Birthing of Ideas which was on display at the 2020 Winter Show Exhibit, Art Complex Center, Duxbury, MA, through August 2020.
Julia's work reveals an abstract and sometimes surreal esthetic sense; starting with basic geometric and organic forms, and then breaking out of traditional, building into new structures.
Julia's artwork has been chosen for publication in literary magazines: Vermont's Mud Season Review, and Oregon's High Shelf Press, and BSB Gallery in Trenton, NJ for their "Free Enterprise Exhibit this Spring 2020.
Some of her artistic influences have been Nancy Crow, Michael James, Judy Mathieson, Buckminster Fuller, and Hilma af Klint, and Antoni Gaudi, to name a few.
Julia grew up in Miami, Florida, taking art classes (drawing and sculpture ) at a very young age. Her mother, Deborah Winter, an artist in her own right, introduced her to art at an early age.
Later though still trained and working in art, Julia decided to study music and received her Master's degree in Music from the University of Miami School of Music. Julia 's initial fascination for the esthetic in geometry started with her career in music and composition and then continued to manifest in her art quilts going back to 2006. Since that time, Julia has continued to develop her own designs expanding into other media such as mosaic and sculpture.
Julia is an experienced artist, performer, musician, composer, and educator, has won achievement awards for her quilts, music performance, teaching, and sound compositions. She has also studied and performed and choreographed various dance forms such as flamenco, and worked in film and photography.
Born in California, early childhood raised in Miami Florida, she now resides in New Jersey for the past 23 years.
Julia Muench has lived with art, in one form or another, her entire life. Her latest fiber art collection spans the past 15 years, simultaneously, Julia has been working in the field of music, teaching and performing. She is currently working on a larger 4'x4' 3D sculpture "Moxius" made of Lexan, glass, and steel.
Julia Muench has a background in visual art, photography, quilting and music composition. Along with her own projects, she works on commissions for clients inspired by her own designs, and a variety of specifically chosen colors.
Julia's original design constructions are inspired by modern quilt art and her background in art observation. Each creation emerges planned out, in the medium of various fabrics pieced together through sewing. Julia chooses specific fabrics as one would choose exact colors and textures for a painting. She incorporates some chosen fabrics to create atmospheres, and other fabric prints to work in contrast to each other and against the geometrical shapes they are cut into. As observed in her work in musical composition, she sees the background as crucially important to the foreground and piece as a whole. A background needs to enhance the solo object(s) in the overall composition.
Her art pieces may be hung on a wall or rolled for easy transport.
Philosophy:
Artists can learn even more about what works in their own creation of art through the understanding of all the various Arts: Music, Dance, Film, Drama etc.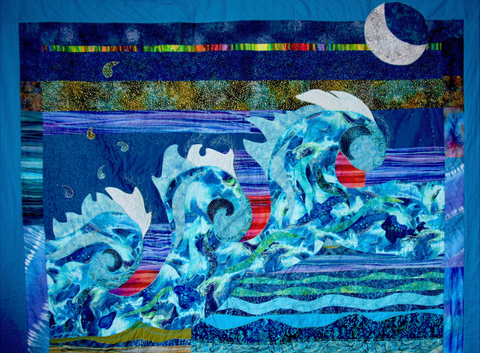 Cosmic Cadence
.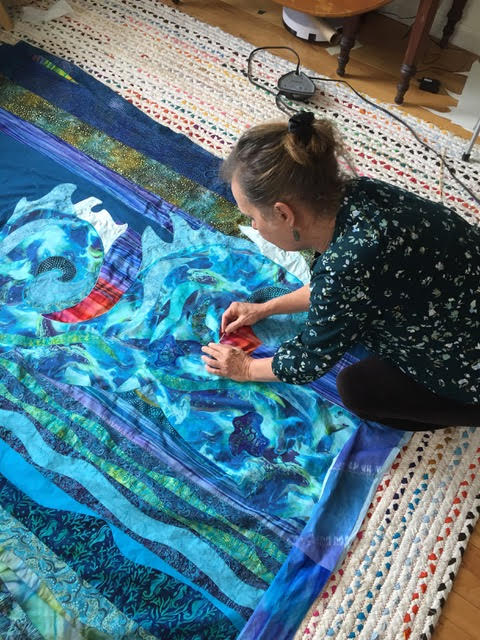 Cosmic Cadence
.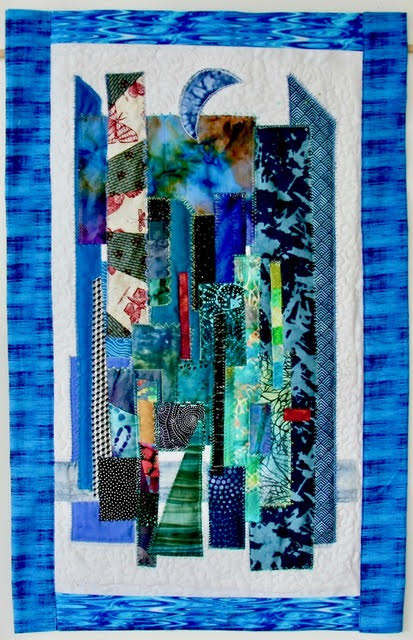 Aquarian Dawn.
.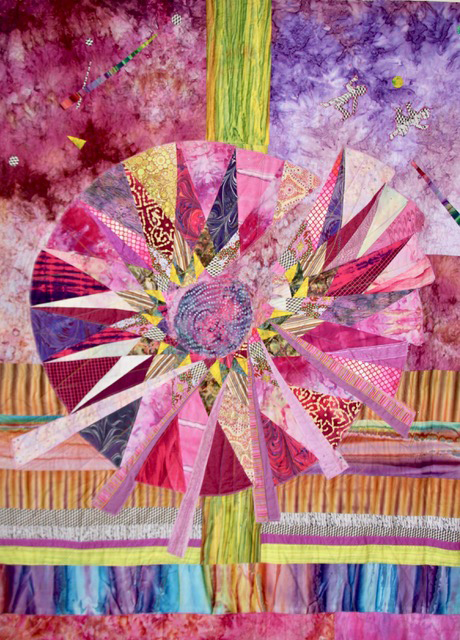 Fair Ride
.